Environmental & Noxious Woody weeds including:-
Gorse
Blackberry
Bracken
Brooms
Ragwort
Galenia
Patersons Curse
St Johns Wort
and many more
Gusto Woody Weed Combo - Measure Guide*
The example below uses the GUSTO herbicide rate required for hard to control woody weeds and the RENOVATE herbicide & HOLDFAST penetrant and wetting agent rates for bracken/blackberry and other hard to kill woody & noxious weeds in native grass pastures*


Note that this treatment will kill clover & other legume species and prevent them from re-establishing many months after application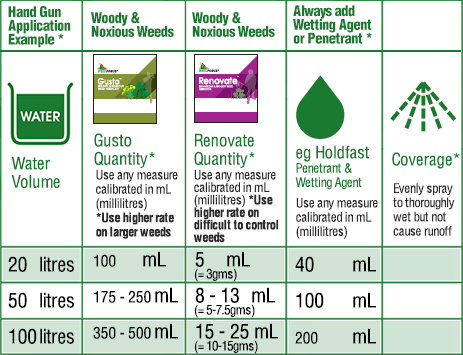 * example only - always read the label prior to using to determine the correct application method and rate for your situation.
** Measure accuracy +/- 10% (use scales where greater accuracy is required).
* NB It is important to apply this product accurately. Application rates in excess of that recommended on the label can
cause damage to pasture and non-target species. and may prevent regrowth of such for many months.
No need to remove stock when using
Care should be taken when grazing treated areas as some noxious weeds may become more palatable after spraying.