Organic Herbicides

Skip to Products
LEARN
how to control weeds

Organic Herbicides
These herbicides are manufactured from naturally occurring compounds. Concentrated forms of vinegar and soapy fatty acids are examples of organic herbicides. To be fully recognised to be used in the production of organically certified foods such herbicides must be externally accredited. The advantages of using organic herbicides are obvious but it is important to note that "organic" does not necessary mean safe to humans. Extreme care and appropriate personal protection equipment must be used when handing and using organic herbicides.
CONTROL
products to control weeds

Clean up existing weed growth with.....
SLASHER , a certified organic herbicide stocked by Weed Force.
Organic herbicides work by dessicating or "burning" foliage of weeds with little if any translocation ( ie there is almost no movement of the weed killer to the roots). This means that these herbicides generally are only effective on annual or shallow rooted weeds. Conventional general purpose herbicides like EVICT BIO 360 herbicide move throughout the weed are generally required to control deep rooted perennial and woody weeds. If organic herbicides are applied to deep rooted perennial and woody weeds you can expect some initial foliage burn off followed by rapid regrowth.
The bottom line when considering to use an organic weed killer is that they are very expensive compared with conventional herbicides however they can be a useful alternative to control spectrums of shallow rooted annual weeds. If deep rooted annual, perennial or woody weeds are present you are likely to be very disappointed and are better to consider EVICT BIO 360 herbicide.
SPRAY
tips and hints

Always refer to the product label to determine the suitability of the product for your intended purpose.
Accuracy is the key to the safe and effective use of weed killers.
Calibrate your sprayer to know how much water it will apply to a given area. In this way you can accurately determine the appropriate rate of weed killer required to be mixed in the sprayer tank.
CAUTION
to be aware of

The addition of spray additive may alter the selectivity of some herbicides
ALWAYS REFER TO AND FOLLOW THE PRODUCT LABELS BEFORE USING THESE PRODUCTS
Recommended Products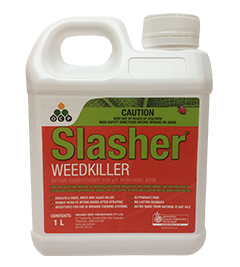 From

$45
Slasher Weedkiller
Plant derived organic weedkiller
For Use In:
Slasher is an organic herbicide that controls weeds, moss, and algae.
Made from natural plant oils
Fast acting
No lasting residue in soil
Glyphosate free
Approved for use on organic farms and gardens
Use Slasher Weedkiller in garden beds, paths, veggie patches,
driveways, around buildings, tiled roofs and even spot spraying
in lawns.
Target Weeds:
For non-selective control of seedling weeds & grasses and for suppression of established weeds as per the directions for use.
Tips and hints to help you get results like the professionals
The best products to prevent weeds from coming back for up to 12 months
The best products to get rid of existing weeds
Information and resources to help you get the best results
Facebook